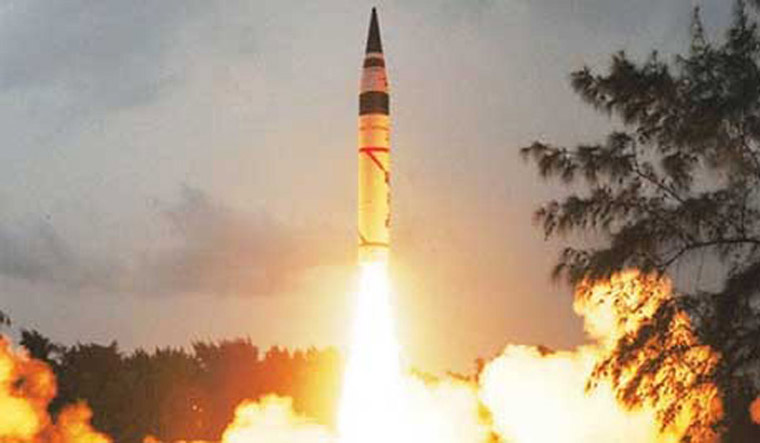 Defence Research and Development Organisation (DRDO) had successfully reported that Agni 5 nuclear-capable ballistic missile was successfully launched on 10th December, on a road-mobile launcher at Dr. Abdul Kalam Island off the coast of Odisha.
Test images and videos -
https://www.drdo.gov.in/drdo/English/index.jsp?pg=agni_5.jsp
The high-speed on-board computer and fault-tolerant software, along with robust and reliable bus guided the (Agni-5) missile flawlessly (during the test)," an official said
Technical Specifications
Type = Intercontinental ballistic missile
Engine = The three-stage, solid-fuelled
Range =5,500km
Completely developed indigenously by assiduous efforts of scientists.
Manufacturer

Bharat Dynamics Limited
Unit cost

₹50 crore (US$7 million)
Weight

50,000 kg
Length = 17.5 m Diameter

= 2 meters
Warhead weight = 1,500 kilograms
Speed = Mach 24 (terminal phase)
Guidance system = Ring laser gyroscope and inertial navigation system, optionally
src = wikipedia
Agni-5 missile is expected to be inducted into India's Strategic Forces Command soon.
Launch platform - 8 × 8 Tatra TEL and rail-mobile launcher
The first test of Agni V was conducted on April 19, 2012.
How Agni V works
1. Programmed in a way that, it thrusts towards the earth to it's the target with an increased speed after reaching the peak trajectory, its path precisely directed by the Ring laser gyroscope and inertial navigation system.
2. After entering the earth's atmosphere, its outer surface temperature raises beyond 4,000 degree Celsius due to atmospheric friction, and its internal temperature is maintained at 50-degree Celsius.
3. Finally, commanded by the onboard computer with the support of laser gyro-based inertial navigation system, micro inertial navigation system (MINS), fully digital control system and advanced compact avionics, the missile hit the designated target point accurately, meeting all mission objectives, the sources said.
4. The ships located in mid-range and at the target point tracked the vehicle and witnessed the final event.
5. All the radars and electro-optical systems along the path monitored the parameters of the missile and displayed them in real time.
India successfully launches Agni V, a long range surface to surface nuc capable ballistic msl. All mission objs achieved, strengthening India's deterrence capability.

pic.twitter.com/l1tVarBDnc

— Defence Spokesperson (@SpokespersonMoD) December 10, 2018